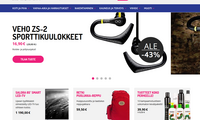 Top-Features
Put your products up for sale at Verkkokauppa.fi without additional manual work
Receive already paid orders from Verkkokauppa.fi
Additional reporting features are available at Verkkokauppa.fi extranet
Description
When you have made a contract with Suuremmoinen Online Oy, you can put your products up for sale at Verkkokauppa.fi, an e-marketplace with a number of merchants. You can choose to manage products and orders through your ePages shop instead of Verkkokauppa.fi extranet.
With Verkkokauppa.fi ePages app, products are retrieved from the ePages shop REST API and displayed at the shop front without the need for manual work. When a customer makes a purchase, the order is sent to the ePages shop. Verkkokauppa.fi will check the order status periodically to keep the information up to date.
Preis
Free
Entwickelt von
Symmetria
Voraussetzungen
This application is free to use. There are no monthly or initial fees when operating as a merchant at Verkkokauppa.fi.
Zurück zur Übersicht